Safe and effective gutta-percha removal with MicroMega Remover rotary file
Webinar Recording Not Available | Date: Monday, July 6, 2020 | 21:00 – 22:30 Greek Time | Language: Greek | Duration: 1 Hour and 30 Minutes | Presenter: Dr. Konstantinos Kalogeropoulos DDS, MSc | Organized by: Merimna Institute Greece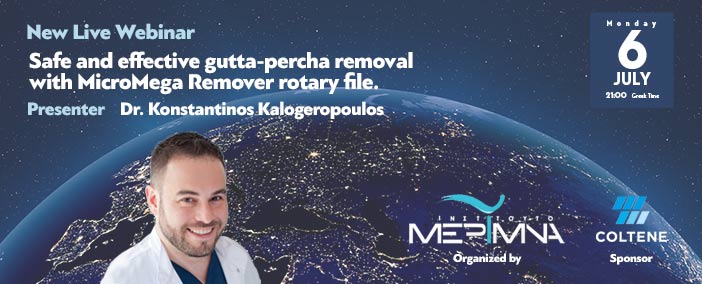 Webinar Done
Date: Monday, July 6, 2020 | 21:00 – 22:30 Greek Time
Language: Greek
Duration: 1 Hour and 30 Minutes
Presenter: Dr. Konstantinos Kalogeropoulos DDS, MSc
Organized by: Merimna Institute Greece
Abstract:
Whether an endodontic treatment has an acceptable or not radiographic appearance, many times the aims of Endodontics have not been fulfilled. Prevention and treatment of apical periodontitis is the cornerstone of our treatments and when a revision of a previous treatment is needed many factors are to be taken into consideration in order to achieve the desirable results.
Guttapercha with sealer is the main root canal filling material we encounter when retreating a tooth. In the past, many methods and instruments have been proposed in order to remove the previous filling materials. Heat, ultrasound, solvents, dedicated and not rotary and hand instruments have all been used.
MicroMega remover is a brand new rotary file, dedicated to gutta-percha removal. It embraces many different design characteristics that make the task it was designed for safe and predictable. It can also be used effectively to remove carrier based obturation materials. Of course, the retreatment process does not only involve the renewal of the root canal filling materials and many times mishaps and mistakes also exist that complicate the situation. The correction of these is sometimes a difficult task and careful planning is needed in order not to create more problems than the ones we have to solve.
The purpose of this webinar is to present the characteristics of this file, and explain its advantages in order to achieve the desirable results in clinical practice and in any retreatment scenario. Moreover, they will learn tips and tricks that make the clinician's life easier and the route to success less stressful and more predictable.
Dr. Konstantinos Kalogeropoulos DDS, MSc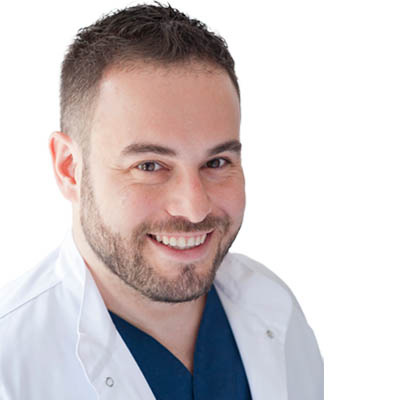 Konstantinos Kalogeropoulos graduated from Athens Dental School in 2005. He did his 3 years post graduate studies in the same University and received a Master of Science in Endodontics. He maintains a private practice limited to Endodontics in Athens, Greece since 2008. He has been affiliated with the undergraduate and postgraduate Endodontics department and the Continuous Education program and he lectures both nationally and internationally. His articles are clinically oriented and his clinical cases have been published in endodontic journals and text books around the world.
Sponsored by