Tactile Controlled Activation technique with Jeni motor
Webinar Recording Not Available | Title: Tactile Controlled Activation technique with Jeni motor | Date: Monday, July 13, 2020 | Language: Greek | Duration: 1 Hour and 30 Minutes | Presenter: Dr. Antonis Chaniotis | Organized by: Merimna Institute Greece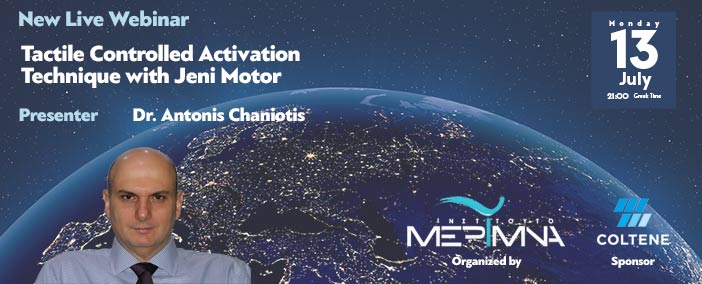 Webinar Done
Date: Monday, July 13, 2020 | 21:00 – 22:30 Greek Time
Language: Greek
Duration: 1 Hour and 30 Minutes
Presenter: Dr. Antonis Chaniotis
Organized by: Merimna Institute Greece
Abstract:
The root canal system is often a highly complicated canal network of multi-planar curvatures and anastomotic pathways. Reaching the biological and design objectives of instrumentation in severely curved canals, deep apical splits and complicated canal systems can be an extremely challenging aspect of root canal treatment. The aim of this lecture is to introduce a new conservative instrumentation concept with flexible electrical discharge machined martensitic files for the predictable and safe management of extremely challenging root canal systems and the evolution of the technique to a motorized controlled one with the new Jeni motor.
Learning objectives
Upon completion of this course the participant should be able to:
1. Understand the design and biological objectives of canal instrumentation.
2. Understand the anatomical complexity of the root canal systems.
3. Implement a new instrumentation method for the predictable management of challenging anatomies.
4. Use the new Jeni motor for the motorized control of the technique.
Dr. Antonis Chaniotis DDS, MSc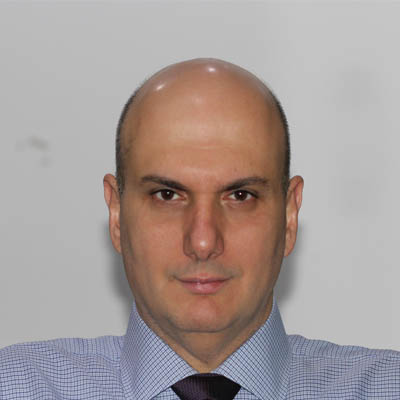 Chaniotis Antonis graduated from the University of Athens Dental School, Greece (1998). In 2003 he completed the three-year postgraduate program in Endodontics at the University of Athens Dental School.
Since 2003, he owns a limited to microscopic Endodontics private practice in Athens, Greece.
For the last ten years, he served as a clinical instructor affiliated with the undergraduate and postgraduate programs at the University of Athens, Athens Dental School, Endodontic department, Greece.
In 2012 he was awarded the title of Clinical fellow teacher at the University of Warwick, Warwick dentistry UK.
He lectures extensively nationally and internationally and he has published articles in local and international Journals.
He currently serves as an active member of the Hellenic Society of Endodontology (ESE full member society), an active member of Hellenic Association of Endodontists (ESE full member association), country representative of the Hellenic Association of Endodontists in Europe, a certified member of the European Society of Endodontology (ESE) and international member of American Association of Endodontists (AAE).
Sponsored by